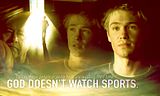 From this memorable scene:


COACH: Nice, isn't it? A lot of people like their gyms loud. I like mine like this -- quiet, clean... Kind of like a church. A lot of praying done here, anyway. You played ball in grade school. Why'd you quit?

LUCAS: I didn't.

COACH: What, four guys in the park? That's not exactly basketball.

LUCAS: Then what do you think we're doing out there?

COACH:I don't know. Planning a bank job? Look, I've got an opening in my lineup, varsity. Chance of a lifetime. What do you say?

LUCAS:I say those people that pray here are wasting their time. God doesn't watch sports.